Categories
How we put members first
3 minute read
We've always said that members are at the heart of everything we do. If you have visited the giffgaff office, we have a wall that says "Together with our members, anything is possible." And we really believe that. We don't just talk the talk, we actually walk the walk. For this month's blog, I am going to tell you some stories about how we are putting members first this recently.
Community platform gets a fresh new look
Let me start with a bit of background. It's been a really interesting journey for the community platform team over the last 6 months. The team have been creating a new forum that will be a game changer for our members. It will make socialising more fun and engaging, and asking for help on your phone will be even easier. Everyone's a winner.
We've been working with open source code from a start-up called Flarum to create the new community platform. Being open source offers huge potential for what "run by you" means on the community. We can literally customise the forum to be just what our members need. And that's what we have done.
Alex, the product manager for the community platform, has said in one of his most recent announcement posts:
"Flarum offers an opportunity to customise the community to exactly what you all want and need. We could choose to go with anything from their out of the box experience (which is very different to what you're used to), to something more traditional; it's up to us all to decide together.
By putting members first, we have been giving the members of the forum daily updates and receiving daily feedback. This steers the team in the direction that's right for our members. The team have been tirelessly coding and we have recently put their work to the test. We invited a few members in the office to give it a go and see what they think.
Science fair with all the flair
Every month our scrum masters put together a science fair. Each product team does a 5 -10 minute presentation showcasing what they've been working on. More importantly, what experiments they've been running with members, and the outcomes.
The way the science fair works is pretty simple. First the staff who aren't presenting are split into groups. We then walk around to the different teams to listen and quiz them on what they're presenting.
What's really great about the science fair is the pride the different teams have for the projects they are working on. And for me specifically, listening to what members have been involved in for each of their projects. We had members involved in:
the community platform experimentation, which will soon be released for the public,

improving the help journey, which means quicker resolution time for members and fewer cases needing to be raised,

giving new ideas for giffgaff gameplan, like a button linking to gameplan from the app,

giving their feedback across the site - specifically the way how goodybags are talked about.
This month I thought I'd create a short video just for you to see what the science fair is all about. Grab a cuppa and click the image below to watch the short video.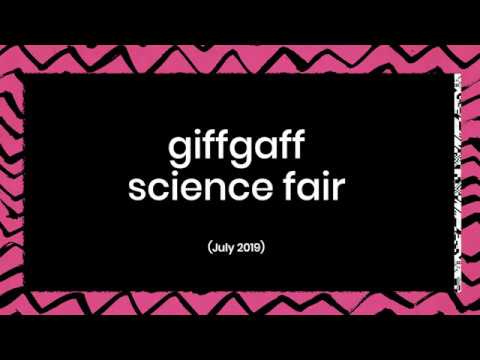 And that's a wrap - until next month. Thanks for reading this month's newsletter. If you'd like to get involved in being a giffgaff pioneer, hop on board and join the facebook group. You'll get glimpses into what we're doing and opportunities to get involved yourself.